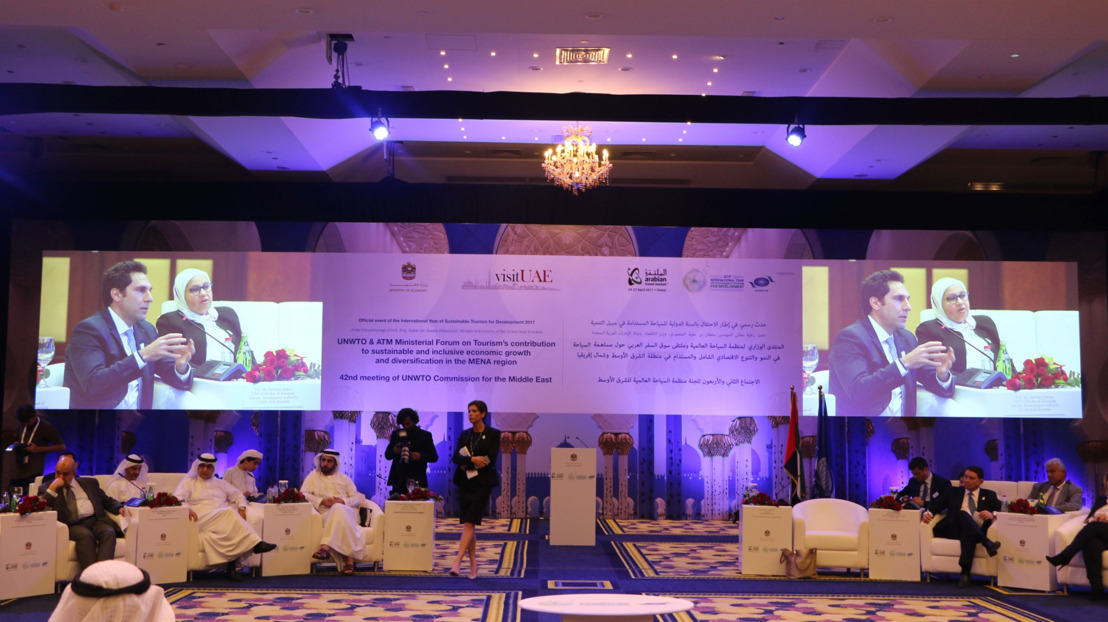 Sustainability and Inclusion Remain Key Drivers for Ras Al Khaimah's Tourism Industry
RAKTDA CEO Haitham Mattar highlights commitment to continue emirate's drive towards sustainable tourism during the UNWTO and ATM Minist
Wednesday, April 26, 2017 — Haitham Mattar, CEO of Ras Al Khaimah Tourism Development Authority (RAKTDA), has reaffirmed the emirate's commitment to promoting a sustainable tourism industry during this year's United Nations World Tourism Organization and Arabian Travel Market Ministerial Forum.
Held under the patronage of H.E. Eng. Sultan bin Saeed Al Mansoori, Minister of Economy of the United Arab Emirates, the forum focused on tourism's contribution to sustainable and inclusive economic growth and diversification in the MENA region.
Speaking among industry peers, Mattar, noted: "It is vital that we work hand-in-hand with our travel and tourism stakeholders for the greater good of the community in which we operate. Through successful collaboration, we are able to stimulate sustainable job growth, increase the industry's financial contribution to the economy, and support a growing number of travellers that visit Ras Al Khaimah year-on-year."
"We have an abundance of natural assets in Ras Al Khaimah which are centred around the relatively untouched mountains, coast and desert. These, together with an authentic culture and heritage, are the key differentiators for the destination. By identifying sustainable tourism as a major pillar of our 'Destination 2019' Tourism Strategy, not only will we protect and conserve these assets in a sustainable way, but we are also well on our way to achieving our targets for visitor arrivals, employment creation, and contribution to GDP."
The high profile Ministerial Forum was moderated by Ms. Becky Anderson from CNN International with opening speeches by Mr. Mohammed K. Al Muhairi, Undersecretary for Tourism, Ministry of Economy, United Arab Emirates, and Mr. Taleb Rifai, Secretary-General, United Nations World Tourism Organization (UNWTO).
ENDS
Notes to Editors:
About Ras Al Khaimah
One of the world's fastest growing tourism destinations, Ras Al Khaimah boasts a rich culture and long-standing history dating back 7,000 years. The Emirate boasts an array of archaeological sites and breath-taking natural vistas, from golden sand beaches, awe-inspiring terracotta dunes and a green belt of date palms to Jebel Jais, the highest mountain in the UAE.
To learn more about Ras Al Khaimah, visit us at:
About Ras Al Khaimah Tourism Development Authority (RAKTDA)
The Ras Al Khaimah Tourism Development Authority (RAKTDA) was established in May 2011 under the government of Ras Al Khaimah. In order to achieve target growth of one million visitors by the end of 2018, the authority aims to develop the emirate's tourism infrastructure and establish Ras Al Khaimah as a world-class destination for leisure and business travel, creating sustainable investment opportunities and enhancing the quality of life for its residents. In order to achieve its goals, the RAKTDA has a government mandate to license, regulate and monitor the emirate's tourism and hospitality industry.
Follow RAKTDA on twitter: @RAKTourism