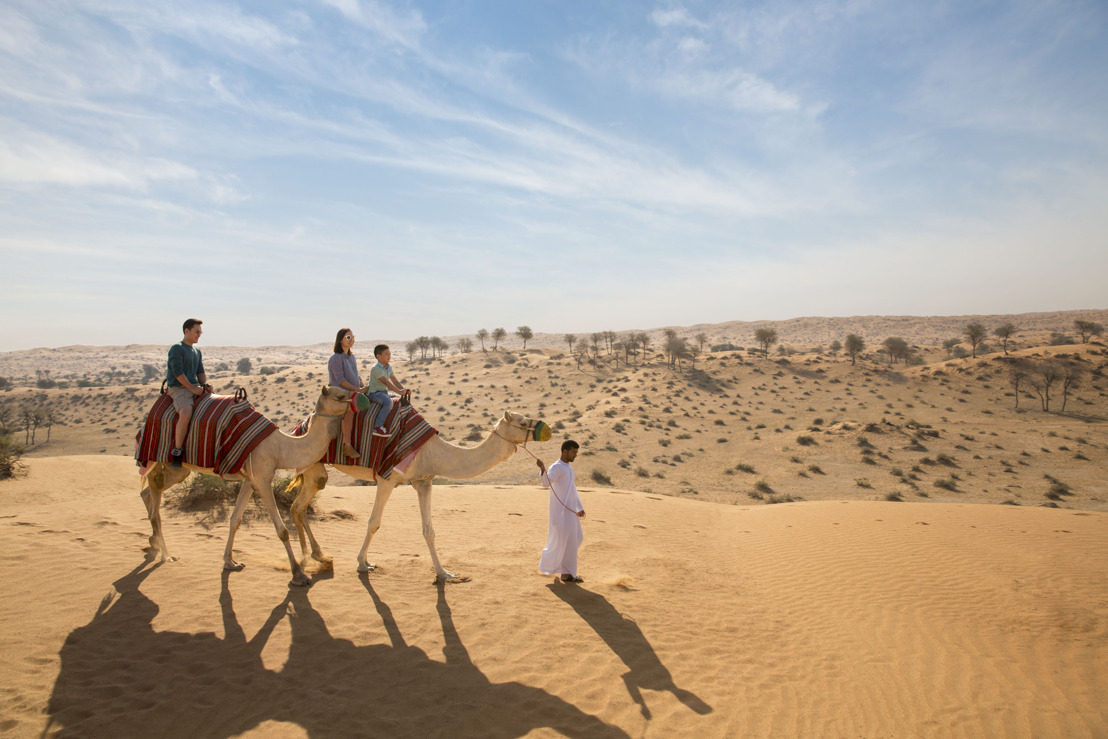 SEVEN THINGS TO DO IN RAS AL KHAIMAH
Monday, July 31, 2017 — One of the world's fastest growing tourism destinations, Ras Al Khaimah boasts a 7,000 year-old history, an array of archaeological sites and varied natural vistas, from golden beaches, terracotta dunes and a green belt of date palms to Jebel Jais, the highest mountain in the UAE.
Ride, see, sail, relax, learn, move and explore! It's all possible in the UAE's northernmost emirate. Get started with these suggestions....
Ride: Horse-riding at Al Wadi Equestrian Centre
Saddling up in the early morning or late afternoon is an exciting way to discover the desert landscape of Ras Al Khaimah. The Al Wadi Equestrian Centre provides visitors with guided horse treks through 500 hectares of unspoilt nature. Keep your eyes open for sand gazelles, Arabian oryx and, if you're lucky, desert foxes and wild cats.
INFO: Open daily between 5.30am-09.30am and 4pm-8pm; 07 2067777; www.alwadiequestrian.com
See: Star Gazing at Al Wadi Nature Reserve
Ras Al Khaimah's clear night skies come alive in the Al Wadi Nature Reserve with constellations, stars and planets offering a truly mesmerising experience for seasoned astrologers and amateur star gazers alike. Available through Al Wadi Desert, Ras Al Khaimah, a Ritz Carlton partner hotel, the introductory star gazing sessions cover the history of how Arabian explorers used the formations to navigate vast spaces.
INFO: Upon request and subject to the weather; +971 7 206 7777; rc.rktrw.experience@ritzcarlton.com
Sail: Al Hamra Marina & Yacht Club
There is no better way to cool off this summer than taking to water. Ras Al Khaimah's pristine coastline provides the ideal setting to explore, relax and partake in various water-based activities. Surrounded by white beaches and serene natural lagoons, Al Hamra Marina & Yacht Club offers the perfect day out with a wide range of activities regardless of experience, including sailing, diving and wakeboarding.
INFO: Open daily, 24 hours; +971 7 243 2274; info@alhamramarina.com; http://www.alhamramarina.com/
Relax: Waldorf Astoria, Ras Al Khaimah Spa
Relax and rejuvenate in the tranquil environment of this award-winning 'underwater themed' spa. The Afternoon Tea facial, an anti-aging treatment designed exclusively for Waldorf Astoria Ras Al Khaimah, stimulates cell rejuvenation. As well as numerous other treatments, the spa has a variety of facilities including male and female steam rooms, a floatation bed and Waldorf Astoria's signature herbal sauna.
INFO: Open daily, 9am-9pm, minimum age 16; +971 7 203 5722; rasalkhaimah.info@waldorfastoria.com
Learn: National Museum of Ras Al Khaimah
Be immersed in the culture and heritage of the UAE's most northern Emirate at the National Museum of Ras Al Khaimah. The museum is filled with archaeological, historical and ethnographical objects, partly donated by members of the ruling Al Qasimi family and residents of Ras Al Khaimah. This former fort was originally designed as a defensive structure to fend off the British during the Arabian Gulf Campaign between 1809 and 1819. The building was re-opened to visitors as a Museum in 1987.
INFO: Visiting hours: Sat - Thur 8:00am - 6:00pm, Friday 3:00pm - 6:00pm; +971 7233 9900; nmrak@museum.rak.ae; http://www.rakheritage.rak.ae/en/pages/rakmuseum.aspx
Move: Sunrise and Sunset yoga at Al Wadi Desert, Ras Al Khaimah, a Ritz Carlton partner hotel
Whether you'd like to start or end your day energising your mind, body and soul, Sunrise or Sunset yoga sessions at Al Wadi Desert enable you to heighten your senses, flexibility and inner zen. Suitable for all levels and abilities, the sessions are the perfect way for yogis to connect with Arabian nature amidst the terracotta sand dunes of the Al Wadi Nature Reserve. Sunrise yoga features a sequence of yoga poses bound into a continuous movement known as "Sun Salutation Yoga," while Sunset yoga combines meditation exercises and yoga poses with several relaxing techniques.
INFO: Open Thursday – Tuesday, Sunrise and sunset time subject to seasonality +971 7206 7777; http://www.ritzcarlton.com/en/hotels/uae/al-wadi-desert/spa/yoga-and-fitness
Explore: Safarak Tours
Discover the fascinating Emirate in its entirety with luxury tour company Safarak Tours. Meaning 'Your Travel,' Safarak provide smooth explorations across the region, from traditional sunset picnics on top of the UAE's highest mountain to tours through Ras Al Khaimah's infamous 'Ghost Town,' Jazirat Al Hamra. Select from an extensive range of tours or customise your own.
INFO: Open daily; bookings@safaraktours.com; or call +971 7203 6999; www.safaraktours.com