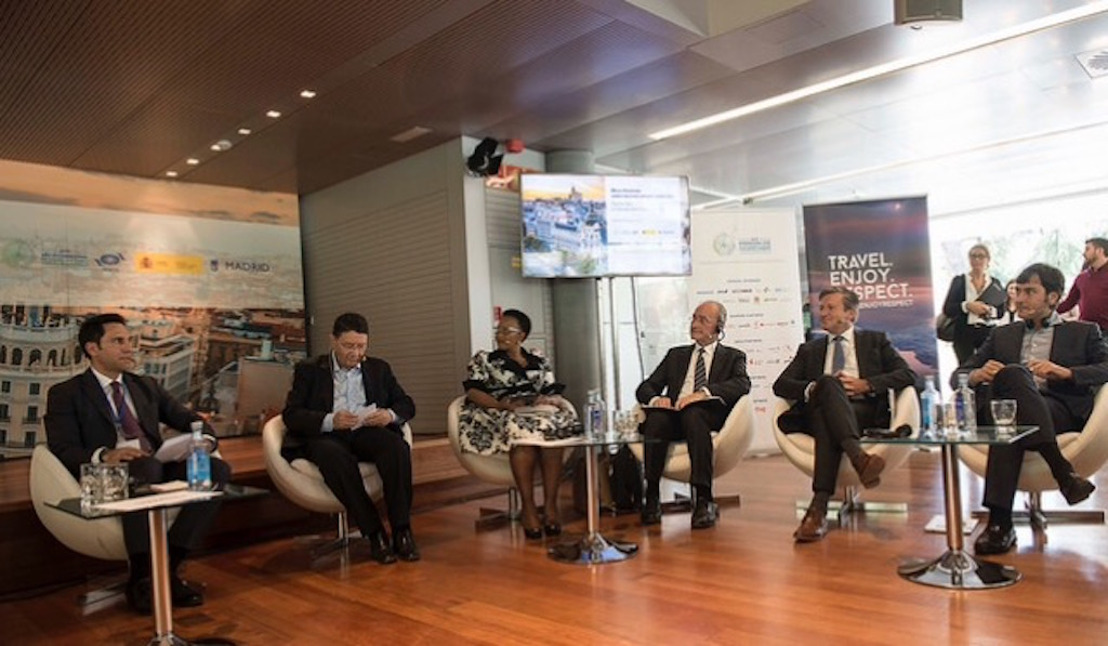 ADVENTURE SPORTS CAN BOOST NATIONAL PRIDE AND DOMESTIC TOURISM, SAYS RAKTDA CHIEF
Haitham Mattar highlights Ras Al Khaimah's potential for urban tourism at the 105th meeting of the World Tourism Organization (UNWTO) Executive Council in Madrid
Monday, May 15, 2017 — Adventure tourism has huge potential in stoking national pride and sustaining domestic tourism, according to Haitham Mattar, CEO of Ras Al Khaimah Tourism Development Authority (RAKTDA).
Speaking in Madrid at a roundtable on Sustainable Urban Tourism organised by the United Nations World Tourism Organisation (UNWTO), Mattar pointed to the success the UAE's northernmost emirate has seen in driving local and regional uptake of its latest adventure tourism products.
"Destinations such as Ras Al Khaimah have a huge opportunity to encourage visitors to get out and get closer to nature," Mattar said. "Since opening our Jebel Jais Via Ferrata attraction, we have seen increasing numbers of UAE and Gulf nationals head to the hills, so to speak. The result has been a flurry of social media activity devoted to the proximity and beauty of the Hajar Mountains range, a natural, national asset. The sense of national and regional pride is just pouring out of these posts.
By providing a product that sensitively leverages nature, but does not harm it, we are accessing a largely dormant niche sector which could change the understanding of urban tourism. The Hajar Mountains, Ras Al Khaimah's natural coastline, widespread mangrove forests and desert areas are all within a 20-minute drive from the town centre, a 45-minute drive from the densely-populated Dubai downtown and around two hours' drive from the country's capital city. When city dwellers meet nature, they are transported out of their fast-paced daily environments into calmer surroundings. This is where adventure sports provide the added extra of a challenging adrenalin rush."
As an official sponsor of UNWTO IY2017, RAKTDA was represented by Mattar at the 105th meeting of the UNWTO Executive Council in the Spanish capital. The meeting focused on current trends and challenges facing the tourism sector and on the three priorities of the organisation: safe, secure and seamless travel, the impact of technology in the tourism sector and sustainability.
Mattar explored ways to sustain urban tourism alongside an international panel, which included their excellencies Gustavo Santos, Argentina's Minister of Tourism; Francisco de la Torre Prados, the Mayor of Málaga in Spain; Pongpanu Svetarundra, the Permanent Secretary to Thailand's Ministry of Tourism and Sports; the Hon. Ms.Tokozile Xasa, South Africa's Tourism Minister and José María Ezquiaga, Director, Madrid Architects Association.
Mattar added that sustainability underpins Ras Al Khaimah's Destination 2019 strategy, which aims to attract a million tourists a year to the emirate. The strategy emphasises social inclusiveness, cultural values, diversity and heritage while taking full account of Ras Al Khaimah's economic, social and environmental impacts.
"At RAKTDA, our strategy is focused on increasing the value and yield of tourism rather than simply driving up visitor numbers," he said. "We want the world to know that our emirate is not only a premier desert, sea, sand and mountain destination but also a safe one."